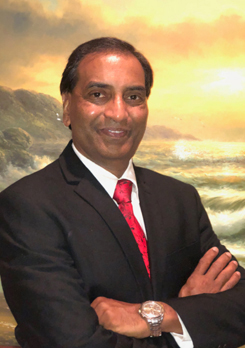 Jesse Garg

General Manager and Executive Chef
Jesse Garg came to the United States of America about two decades ago from the Northern part of India. He has had a passion of cooking since he was seven years old because he grew up watching his father cook, as a chef. He learned from his father's shared recipes and cooking skills. His father always had a dream to open a pub or a restaurant in the United States. Therefore, this was always a goal for Jesse; to fulfill his father's dream.
Jesse Garg Started his restaurant career working at Grinders restaurant as General Manager. In over 20 years of his restaurant career, Jesse worked as a Culinary Manager, Service Manager and General Manager of HomeTown Buffet, Grinders restaurant, and Olive Garden restaurant, one of largest family Italian restaurant chain.
Jesse Garg also helped his wife to open their first Indian restaurant in San Marcos, San Diego and branched out the Indian restaurant and open more restaurants in Carlsbad, San Marcos, and Temecula. This way he fulfilled his father's dream. Jesse is passionate about his service and cooking skills. He is a professional Northern Indian restaurant Master Chef and still creates flavorful recipes for his restaurants and catering patrons. He also got invited by television morning show Channel 8 of San Diego to perform his cooking skills, where he displays the cooking tips for one his signature Dish recipe.
Due to his love of restaurant & hospitality business industry; and experienced culinary manager of one of the largest chain of Italian restaurants, Jesse has decided to join a group of entrepreneurs to open Italian restaurants. As a General Manager and Executive Chef, Jesse is opening his own First Italian restaurant, La Cucina in Fallbrook, CA.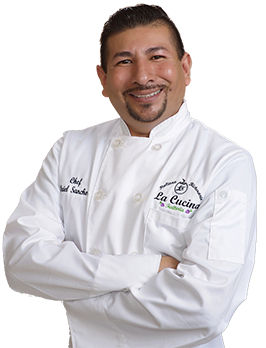 Uriel Sánchez

Head Chef of La Cucina Trattoria
Head chef Uriel Sánchez has been passionate about cooking for as long as he can remember. From Dishwasher to culinary expert, chef Uriel Sánchez has dedicated 22 years to the culinary industry and has gained valuable experiences from them. Chef Uriel Sánchez is a culinary professional who has worked hard to provide the best food and experiences to his customers. Chef Sánchez specializes in understanding both Italian food and the Italian culture. He has worked for over twenty years at multiple restaurants, such as, Olive Garden, Taste of Italy, and Jonny Carinos, as a chef and a kitchen manager.
Chef Sánchez is proud to offer traditional and quality Italian flavors and dishes. His goal for La Cucina is to create a humble and warm environment where every customer is treated like family. Chef Sánchez has always said that food is an art, which is why he strives to thoughtfully create every dish.
As Chef Sánchez embarks on this new adventure, he hopes to treat every customer with the respect and care they deserve. It's his main mission to please all his customers by providing them with the best possible food. Chef Sánchez feels a great respect for his customers, and he is looking forward to serving the people as the Head Chef of La Cucina Trattoria.